————- JUN 16, 2016 —————
Where to eat in Noosa – Hasting Street Restaurants in Noosa

Noosa has no shortage of fantastic dining options.  We've chosen three restaurants in Noosa that will compliment your holiday experience with us at Maison Noosa. 
Bistro C is hard to beat with its absolute beachfront location and seasonal menu along with its consistent favourites. They are open for breakfast, lunch & dinner.  We recommend you book for lunch and dinner.  Early dinner is our favourite time to watch the sunset over Laguna Bay whilst sipping your first cocktail.  Kids are catered for too with their own menu.  Your holiday won't be complete without a meal at this popular Noosa restaurant.
Bistro C, On The Beach, 49 Hastings St, Noosa
(07) 5447 2855
Email: inquiry@bistroc.com.au
www.bistroc.com.au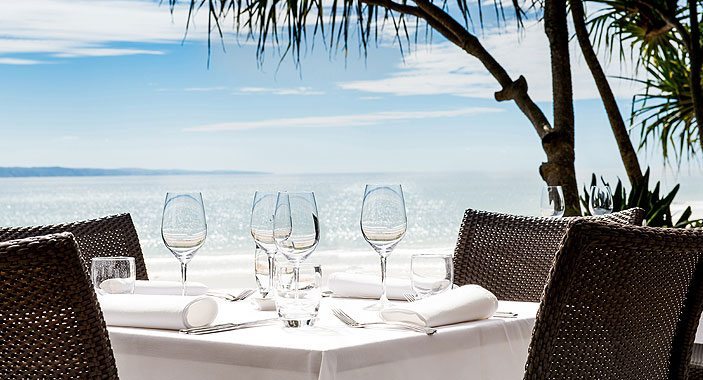 Sails Restaurant has incredible ambience, opening right out onto the beach.  You could be anywhere in the world sitting looking out at the board riders at famous First Point Noosa.  The waiters are attentive without being intrusive.  The menu is absolutely divine!  Executive Chef, Paul Leete, presents a creative fusion of modern Australian cuisine, while keeping a strong focus on fresh, seasonal produce.  We recommend a long lunch so you can soak up Noosa at its best!
Beachside, 75 Hastings St, Noosa Heads
(07) 5447 4235
Email: info@sailsnoosa.com.au
www.sailsnoosa.com.au
Locale with its accent on Italian cuisine fulfils the cultural hit we all need when we are on a holiday.  Rio, your host, originates from Puglia in Italy ensuring you taste the authentic delights of his home country.  Whether you dine at the bar or are seated a la carte your experience of this beautiful restaurant along with the food and service is a must one evening of your stay when you stay at Maison Noosa.
OPEN DAILY FROM 12 NOON, 62 Hastings St, Noosa Heads
(07) 5447 5111
Email: info@localenoosa.com.au
www.localenoosa.com.au
BOOK NOW to stay at Maison Noosa!
For more information on accommodation specials, Freecall: 1800 60 40 54 or email: info@maisonnoosa.com.au
Our beachfront Noosa location offers 1, 2 & 3 Bedroom self contained apartments right on Noosa's Main Beach.
———— MAR 25, 2016 ————
Noosa Holiday Accommodation. The summer months may have almost slipped away but that doesn't mean you have to lose the beachy Queensland lifestyle we all love.
Noosa's premier luxury holiday destination, Maison Noosa, has been awarded the TripAdvisor Certificate of Excellence three years running. Located on Hastings Street, Noosa's buzzing epicentre, Maison Noosa is only a short stroll from numerous cafés, restaurants and shops.  Self- contained apartments offering 1, 2 & 3 Bedroom apartment accommodation right on Noosa Main Beach.
Noosa Beachfront access, a heated pool and spa and a well-equipped gym are just some of the fine features which set Maison Noosa apart.
A mid-year trip to the coast will be just as luxurious as any summer getaway, with Maison Noosa sure to provide an even more tranquil experience during the winter months.
Take some time to relax and enjoy Noosa's beautiful sunsets, a humidity-free holiday and, of course, Noosa's famous beaches & Noosa National Park.
Noosa autumn and winter months are beckoning with milder days, less crowded beaches, a relaxed atmosphere and cool, cosy evenings perfect for snuggling up for some rest and relaxation.
Contact the friendly reservations to enquire about low season winter deals. 1800 60 40 54 or +61 7 5447 4400
Website: http://www.maisonnoosa.com.au
————FEB 8, 2016 ————
Choose from 1, 2, or 3 bedroom self-contained Noosa holiday apartments. You'll be absolute beachfront only a few steps to having your feet in the sand of Noosa Main Beach overlooking gorgeous Laguna Bay. All the apartments are individually furnished to suit your holiday plans. There is nothing more relaxing that being right on the beach on Hastings Street. These Noosa apartments offer air conditioning, well equipped kitchens, quality bedding, furnished balconies and free wifi and free under cover parking. Located at the quieter newly invigorated end of Hastings St you'll feel right in the heart of Noosa whilst still enjoying the relaxed atmosphere.
Stay longer and pay less. Plan some extra days and have some FREE NIGHTS. Go to our website for more deals on our Specials page.

At this Noosa Resort you will find amenities such as gym, pool, spa & BBQ set amongst beautiful landscaped gardens on Hastings St. Maison is perfectly positioned overlooking Maison la Plage wedding Grove and Noosa Main Beach.
Nestled close to the Noosa National Park, the mouth of the Noosa River, Noosa Woods Bay and on the restaurant and shopping precinct of Hastings St it's the ideal destination for couples & families wishing to soak up the sun and enjoy some quality time together.
———— DEC 17, 2015 ————
For the best accommodation Noosa you can't go past beachfront resort accommodation at Maison. Perfect for singles, couples, families, weddings or honeymoons, this resort ticks all the boxes. With its beachfront Noosa location and easy access to Hastings St, this resort offers a great range of luxury 1, 2 and 3 bedroom apartments. All apartments are fully self contained with spacious interiors with modern, stylish furnishings and tasteful decor. Relax on the private balcony and take in the stunning views over Laguna Bay and Noosa's Main Beach. With beach access, you will have your toes in the sand in no time. Don't forget to pack your surfboard with the local surf break just a short walk away.
Hastings St Noosa Accommodation
Not only will you enjoy beach access, Maison is located on Hastings St making deciding what to have for dinner a breeze. You will be spoilt for choice with Hastings St home to a variety of cafes, juice bars, trendy bars and award winning restaurants. Shop till you drop with local designers and well known brands having stores on this beautiful tree lined street. Here you will find one off pieces along side the latest trends.
Pack your walking shoes and spend time exploring the Noosa National Park. Easily accessible from your accommodation in Noosa on Hastings St via the coastline hugging boardwalk. Discover secluded coves and hidden bays, perfect for a quick dip or some much deserved time out. Keep your eyes open for the locals with the National Park home to koalas, goannas, osprey, dolphins and turtles.
For the best accommodation Noosa, ring us today at Maison and enjoy the best of both worlds with beachfront accommodation located on Hastings St.
———— NOV 20, 2015 ————
For the best Noosa Accommodation for your next holiday, you can't go past Maison Noosa. Maison is your place to relax, unwind, play, enjoy and soak up the stunning views from these absolute beachfront apartments. Enjoy direct access to Noosa's beach as well as Hastings St with its award winning restaurants, cafes, coffee shops and boutique shopping..the perfect Noosa holiday.
Accommodation Noosa
Maison offers a great range of fully self contained one, two and three bedroom apartments, all with spacious living areas, kitchen facilities for self catering, ensuite from the main bedroom and a private north facing balcony. Sit back and take in the stunning views over the beach and towards Noosa's Laguna Bay as well as Maison la Plage Grove and the resort pool.  The one bedroom ocean view apartments with private roof deck feature added luxury and sweeping views over Laguna Bay to Double Island Point and Noosa's National Park.
Take advantage of the onsite resort facilities which include a large swimming pool which is heated in winter, heated spa and adjacent undercover bbq. This Noosa resort also features a guest laundry, lift access, undercover parking, free WiFi and direct access to Noosa beach.
Noosa is the ideal holiday destination where you can do as little or as much as you want and Maison Noosa is the perfect Noosa accommodation option. Combining luxury accommodation, great resort facilities and a central beachfront location you can access the beach, shopping and restaurants without the need for a car.
Maison Noosa..the perfect Noosa accommodation option for your next Sunshine Coast holiday, book today.